the history
of the house
✻
The Mouzon House was erected in 1883 as a simple Victorian brick home. Its diverse neighborhood grew along a series of mineral springs that had become world famous after wounded Revolutionary War soldiers began traveling to a Native American-run hospital in Saratoga that utilized the healing powers of the waters. Legend has it that General Burgoyne was brought here to recover from injuries, and General George Washington asked for High Rock spring as payment for his services to the country. (He was refused.)
A highlight of the unique history of this home was its purchase for $2,500 cash in 1911 by Ardelle Louise McCoy Mouzon, a full-blooded Cherokee woman married to an African-American Creole. In Cherokee culture, women mirrored the earth and held the property ownership for the family. Her purchase, nine years before women gained the right to vote in the United States, was unheard of in Saratoga County – a Native American woman purchasing property on her own, in an era when Congress was just beginning to consider a law to outlaw lynching.
The neighborhood, known as Spring Valley, was one of mixed race and mixed prosperity. While some of the homes would easily be worth more than a million dollars today, the simpler wooden structures aged badly over time.
In the name of 1960s urban renewal, the city began seizing the buildings along High Rock Avenue between York and Lake Streets, marking them for demolition.
All urban renewal wanted, Ardelle told the Saratogian's Frederic Dicker in 1971, "is to get you out of here and put in big business and get big taxes." Woman's pluck saved Mouzon House from demolition – The Daily Gazette, May 20, 2016
Mobilizing support from her church and professors from Skidmore College, Ardelle fought the eminent domain demand and saved her home. Most of the rest of the neighborhood was razed to make way for a car dealership and the public parking lot that currently sits in front of The Mouzon House. The hotels and businesses now surrounding the parking lot and The Mouzon House were part of a later wave of renewal.
Ardelle's daughter, Mia Mouzon, applied several times to Skidmore, which was chartered in 1911 as Skidmore School of the Arts. After being denied entry because of her race, she was accepted on her third try, becoming the first American-born woman of color to graduate from the school in 1947. Mia founded a chapter of the NAACP while in college and went on to a 30-year teaching career in Miami and New Jersey before retiring to Saratoga Springs.
 "She was a presence, a beautiful and smart diva." Legacy of grace and grit, Albany Times Union
A beautiful, articulate and fierce woman, Mia performed as a dancer on Broadway and remained an active supporter and fundraiser for Skidmore. Her husband, Rocky Grocé, was well known locally for his long running Skidmore radio show. After Ardelle's death in 1984, Mia ran The Mouzon House as a boarding house for Skidmore students and visiting artists, while the family lived on Caroline Street. She held on tightly and proudly to the property as symbol of her mother's fight against racism and for historic preservation.
"…she was an exceptionally intelligent, politically astute, sassy and classy woman." Mia Mouzon obituary in The Saratogian
In 1986, the house site was suggested as the place for a new city police garage. The house would have been moved to nearby park land, which a reporter later called "a little like trying to successfully dismantle and relocate something as delicate as a spider's web."
That winter, while Mia was in the South, the electricity somehow got turned off, water pipes froze and broke, and the foundation shifted. The city made an offer. Mia Mouzon still wouldn't sell, and got the foundation fixed.  In 2005, she decided to sell to restaurateurs Dianne and David Pedinotti and was a regular customer of the restaurant that celebrated her family's legacy until she died in August 2017 at the age of 92.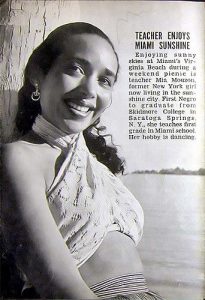 A reporter from Jet magazine photographed Mia Mouzon in 1953 wearing a white halter top on the beach. The description noted Mia was "the first Negro to graduate from Skidmore College," a description Mia didn't like. She described herself as a "multicultural woman of color," and didn't like seeing people put in what she thought were oversimplified categories of black and white, according to her daughter, Michelle Grocé.
Mouzon House now sits at the edge of historic High Rock Park as a reminder of a neighborhood that once was. The Pedinotti family sought to restore as much of the building as possible to the aesthetic of the 1883 era. To honor the history of the house, its verdant gardens, the Mouzon family, and the new family that would keep the gracious home alive, the women of the Pedinotti family painted the plaster walls of the dining rooms with murals that bring the story to life in brilliant color.
The Pedinotti's mission
✻
We strive to bring together fresh ingredients from local farms while using practices that are good for you and good for Earth. Our goal is to provide an experience that provides excellence in atmosphere, quality ingredients, wine, local craft beers and cocktails while showcasing local musicians. We put our own twist on New Orleans cuisine and hospitality providing excellent service that is knowledgeable, friendly and never stuffy.